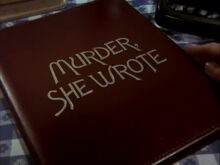 Murder, She Wrote: Season One
Murder, She Wrote: Season Two
Episodes:

"Widow, Weep for Me"
Murder, She Wrote: Season Three
Murder, She Wrote: Season Four
Murder, She Wrote: Season Five
Murder, She Wrote: Season Six
Murder, She Wrote: Season Seven
Murder, She Wrote: Season Eight
Murder, She Wrote: Season Nine
Murder, She Wrote: Season Ten
Murder, She Wrote: Season Eleven
Murder, She Wrote: Season Twelve
Murder, She Wrote: TV Movies
The Law & Harry McGraw
Novels
Games
DVDs
Production Information
Edit
Production Number:
60309
Aired:
September 29, 1985
Written By:
Peter S. Fischer
Directed By:
Michael A. Hoey
INSERT EPISODE SCREENHOT HERE
Created By:
Peter S. Fischer, Richard Levinson & William Link
Executive Producers:
Peter S. Fischer
Producer
Robert F. O'Neill
Regular Cast
Edit
Angela Lansbury as Jessica Fletcher
Recurring Cast
Edit
Guest Stars
Edit
Cyd Charisse as Myrna Montclaire
Mel Ferrer as Eric Brahm
Howard Hesseman as Sheldon Greenburg
John Philip Law as Sven Torvald
Anne Lockhart as Veronica Harold
Raymond St. Jacques as Chief Inspector Claude Rensselaer
Mary Wickes as Mrs. Alva Carne
Co-StarringEdit
Jerry Boyd as Doorman
Emmett Dennis as Sergeant D'Arcy
Geoff Heise as Barnes
Ed Randolph as Croupier
Ektara as Desk Clerk
Reggie Savard as Antoinette
Claude Cole as Bellman
Tony Webster as Steward
Marilyn Conn as Secretary
When Jessica gets several distressing letters from a friend begging for help, and then that friend is later murdered at the tropical island resort she is staying at, Jessica decides to get to the bottom of things. So Jessica flies off to the luxurious island getaway undercover as a wealthy recluse and meets all of the people who had connections with her late friend. While everyone else on the island believes her friend's murder was simply a burglary gone wrong, Jessica believes it's something far more complicated.
DVD Release
Edit
Episode Chronology
Edit
External Links
Edit
Ad blocker interference detected!
Wikia is a free-to-use site that makes money from advertising. We have a modified experience for viewers using ad blockers

Wikia is not accessible if you've made further modifications. Remove the custom ad blocker rule(s) and the page will load as expected.