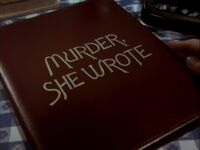 Murder, She Wrote: Season One
Murder, She Wrote: Season Two
Murder, She Wrote: Season Three
Murder, She Wrote: Season Four
Episodes:

"Who Threw the Barbitals
in Mrs. Fletcher's Chowder?"
"Deadpan"
Murder, She Wrote: Season Five
Murder, She Wrote: Season Six
Murder, She Wrote: Season Seven
Murder, She Wrote: Season Eight
Murder, She Wrote: Season Nine
Murder, She Wrote: Season Ten
Murder, She Wrote: Season Eleven
Murder, She Wrote: Season Twelve
Murder, She Wrote: TV Movies
The Law & Harry McGraw
Novels
Games
DVDs
Production Information
Edit
Who Threw the Barbitals in Mrs.Fletcher's Chowder?
Production Number:
63320
Aired:
January 3, 1988
Written By:
Directed By:
Created By:
Executive Producers:
Producer
Regular Cast
Edit
Angela Lansbury as Jessica Fletcher
Tom Bosley as Sheriff Amos Tupper
William Windom as Dr. Seth Hazlitt
Recurring Cast
Edit
Guest Stars
Edit
Colleen Camp as Marigold Feeney
Anne Meara as Winnie Tupper Banner
Donnelly Rhodes as Ed Bellamy
Guy Stockwell as Elmo Banner
Barbara Rhoades as Flo Oakes
Henry Gibson as Harold Banner
Dennis Bailey as Deputy Grover
Joseph V. Perry as Ralph
Everyone in Cabot Cove is surprised when Sheriff Amos Tupper introduces his sister Winner Banner to everyone. She's left her boisterous and somewhat gruff husband Elmo Banner and has no intention of returning to him. Soon the entire Banner clan seems to descend on Cabot Cove. Elmo, his brother and sister - and their spouses - all seem to have an opinion on who should do what. At a dinner in her home, Jessica serves her famous chowder, but midway through the meal everyone falls asleep. Everyone that is except Elmo, who is dead. It's apparent that the chowder was drugged and it's clearly a case of murder. Meanwhile, Amos hires a new Deputy, the over-eager Marigold Feeney.
DVD Release
Edit
Episode Chronology
Edit
External Links
Edit
Ad blocker interference detected!
Wikia is a free-to-use site that makes money from advertising. We have a modified experience for viewers using ad blockers

Wikia is not accessible if you've made further modifications. Remove the custom ad blocker rule(s) and the page will load as expected.