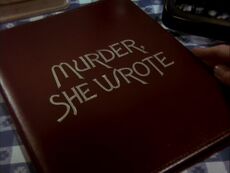 Murder, She Wrote: Season One
Murder, She Wrote: Season Two
Murder, She Wrote: Season Three
Murder, She Wrote: Season Four
Murder, She Wrote: Season Five
Murder, She Wrote: Season Six
Murder, She Wrote: Season Seven
Episodes:

"Who Killed J.B. Fletcher?"
Murder, She Wrote: Season Eight
Murder, She Wrote: Season Nine
Murder, She Wrote: Season Ten
Murder, She Wrote: Season Eleven
Murder, She Wrote: Season Twelve
Murder, She Wrote: TV Movies
The Law & Harry McGraw
Novels
Games
DVDs
Production Information
Edit
Production Number:
Aired:
Written By:
Directed By:
INSERT EPISODE SCREENHOT HERE
Created By:
Executive Producers:
Producer
Regular Cast
Edit
Angela Lansbury as Jessica Fletcher
Guest Stars
Edit
Max Baer
Janet Blair
Betty Garrett
Earl Holliman
Terry Moore
Margaret O'Brien
Jamie Rose
Tom Schanley
Lyman Ward
Marie Windsor
Jane Withers
Marge Allen poses as Jessica Fletcher and gets arrested for breaking into a kennel in Bremleton. The real J,B finds out about the mix-up on the news and calls to notify the local police of the error, but they remain dubious so she decides to make her way to Bremleton to clear things up. Upon arriving she runs into yet more trouble proving her own identity, she has no drivers license (she doesn't drive) and all other identification was similar to the impostors. J,B resorts to buying one of her books with an about the author section complete with her photo to finally convince the sheriff she is the real J,B. Even once convinced the sheriff is reluctant to do anything about the situation but does give Jessica the name/address of the person who supplied bail, Kit Parkins 15 long acre street, Sun ville Texas. The ever mobile Fletcher woman makes her way to texas, receiving an unexpected welcome upon arriving at the address by the J.B Fletcher Literary society. Here she finds out that all of the five six women in the group have photo ID's stating that they are Jessica Fletcher, so they they can all pretend to be her and solve mysteries "just for fun". They told J.B that Marge's son is a state senator with little sense of humor, so she used her ID to avoid hostility from him. J.B asks all of them to do the favor of getting rid of their ID cards, which they all happily do. Upon inquiring about why Marge had broken into the kennel Kim tells her, that Marge had suspected the owner of a dog named prance had been cheating in the amateur field trials for three years and was close to cracking the case. This Drives J.B to have a chat with Marge. At Marge's house J.B picks up a freshly delivered news paper to find her death was front page news. The article stated that she had lost control of her car driving on Wilkes creek rode driving outside of Bremington and plowed into the ditch. She was found by a passing motorist, who presumably found the forged ID card...
DVD Release
Edit
Episode Chronology
Edit
External Links
Edit