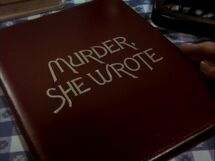 Murder, She Wrote: Season One
Murder, She Wrote: Season Two
Murder, She Wrote: Season Three
Murder, She Wrote: Season Four
Murder, She Wrote: Season Five
Murder, She Wrote: Season Six
Murder, She Wrote: Season Seven
Murder, She Wrote: Season Eight
Episodes:

"The Witch's Curse"
Murder, She Wrote: Season Nine
Murder, She Wrote: Season Ten
Murder, She Wrote: Season Eleven
Murder, She Wrote: Season Twelve
Murder, She Wrote: TV Movies
The Law & Harry McGraw
Novels
Games
DVDs
Production Information
Edit
Production Number: 67506
Aired: 12 January 1992
Written By: Tracy Friedman
Directed By: Jerry Jameson
INSERT EPISODE SCREENHOT HERE
Created By: Peter S. Fischer, Richard Levinson, William Link
Executive Producers: David Moessinger
Producer: Mark A. Burley, Walton Dornisch, Al Kraus, J. Michael Straczynski, Robert E. Swanson
Regular Cast
Edit
Recurring Cast
Edit
Guest Stars
Edit
Episode Chronology
Edit
External Links
Edit
Ad blocker interference detected!
Wikia is a free-to-use site that makes money from advertising. We have a modified experience for viewers using ad blockers

Wikia is not accessible if you've made further modifications. Remove the custom ad blocker rule(s) and the page will load as expected.