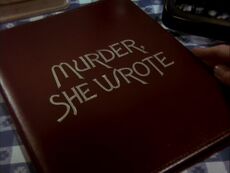 Murder, She Wrote: Season One
Murder, She Wrote: Season Two
Murder, She Wrote: Season Three
Murder, She Wrote: Season Four
Murder, She Wrote: Season Five
Murder, She Wrote: Season Six
Murder, She Wrote: Season Seven
Episodes:

"The Return of Preston Giles"
Murder, She Wrote: Season Eight
Murder, She Wrote: Season Nine
Murder, She Wrote: Season Ten
Murder, She Wrote: Season Eleven
Murder, She Wrote: Season Twelve
Murder, She Wrote: TV Movies
The Law & Harry McGraw
Novels
Games
DVDs
Production Information
Edit
Production Number:
Aired:
18th November 1990
Written By:
Tom Sawyer
Directed By:
Walter Grauman
INSERT EPISODE SCREENHOT HERE
Created By:
Executive Producers:
Producer
Regular Cast
Edit
Angela Lansbury as Jessica Fletcher
Recurring Cast
Edit
Guest Stars
Edit
Lois Chiles
George Coe
Arlene Golonka
Arthur Hill as Preston Giles
Michael McKean
Todd Susman
Brynn Thayer
Gordon Thomson
Years after Jessica Fletcher's first case, Preston Giles is released from prison and is placed on parole. Within the first twenty-four hours of his release, a murder arises and all fingers point to Preston. Jessica has to find out who the real murderer before her first murderer and former love is tried for a murder he may or may not have committed.
DVD Release
Edit
Episode Chronology
Edit
External Links
Edit