DVD Information:
Number of Episodes:
22
Format:
NTSC
Running Time (Approx):
17 Hrs 33 Mins
List Price:
$49.98 (US)
$54.95 (Canada)
Number of Discs:
5
Region 1 Release Date:
January 30, 2007
The Dust Jacket
Edit
"Sharpen your senses and be on the lookout for clues in the compelling fifth season of the Emmy Award-winning series Murder, She Wrote, starring Golden Globe winner Angela Lansbury. This five-disc set features all 22 Season Five episodes that take TV's famous novelist-turned-detective, Jessica Fletcher, from not-so-sleepy Cabot Cove to the dangerous bright lights of New York City, and beyond. From uncovering false fortune seekers to tracking down two-faced killers, Jessica is always there to catch the culprit and pen the final solution to the case. Giving their alibis in these entertaining episodes are an incredible group of guest stars, including Megan Mullally, Erin Gray, Roddy McDowall, Bill Maher, Dinah Shore, Paul Sorvino, Shelley Fabares, and many more. A new chapter begins on DVD for one of TV's most sensational sleuths ever!"
— From The Back Cover of the DVD Boxset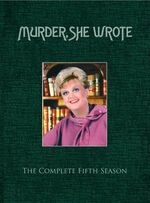 Special Features
Edit
Special Features:
"Origin Of A Series" - All new interview with Angela Lansbury and members of the Cast & Crew
Ad blocker interference detected!
Wikia is a free-to-use site that makes money from advertising. We have a modified experience for viewers using ad blockers

Wikia is not accessible if you've made further modifications. Remove the custom ad blocker rule(s) and the page will load as expected.