Ad blocker interference detected!
Wikia is a free-to-use site that makes money from advertising. We have a modified experience for viewers using ad blockers

Wikia is not accessible if you've made further modifications. Remove the custom ad blocker rule(s) and the page will load as expected.
Production Information
Edit
Murder, She Wrote: South by Southwest
Aired:
November 2, 1997
Written By:
Mark A. Burley
Story By:
Derek Marlowe
Directed By:
Anthony Shaw
INSERT SCREENSHOT HERE
Created By:
Richard Levinson
Peter S. Fischer
William Link
Executive Producer:
Mark A. Burley
Producer
Anthony Shaw
David Shaw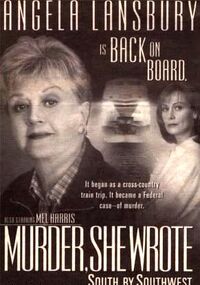 Also Starring
Edit
Jessica is on a train headed for El Paso where she is to lecture at a conference. She shares a table in the dining car with a woman who subsequently vanishes, leaving her purse on the table. Then a message is announced for the woman and Jessica accepts it. This leads to an attack in her compartment and a demand for 'it'. She has no idea what 'it' is and is rescued by a man claiming to be a journalist. The plot thickens. She is warned away by an FBI man, but continues to follow her clues to Agua Verde where the woman apparently lives. The plot twists and turns as she delves deeper.
External Links
Edit