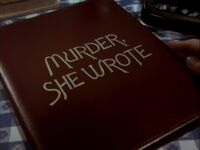 Murder, She Wrote: Season One
Murder, She Wrote: Season Two
Murder, She Wrote: Season Three
Murder, She Wrote: Season Four
Episodes:

"Just Another Fish Story"
"Deadpan"
Murder, She Wrote: Season Five
Murder, She Wrote: Season Six
Murder, She Wrote: Season Seven
Murder, She Wrote: Season Eight
Murder, She Wrote: Season Nine
Murder, She Wrote: Season Ten
Murder, She Wrote: Season Eleven
Murder, She Wrote: Season Twelve
Murder, She Wrote: TV Movies
The Law & Harry McGraw
Novels
Games
DVDs
Production Information
Edit
Production Number:
Aired:
Written By:
Directed By:
INSERT EPISODE SCREENHOT HERE
Created By:
Executive Producers:
Producer
Regular Cast
Edit
Recurring Cast
Edit
Michael Horton as Grady Fletcher
Debbie Zipp as Donna Mayberry
Guest Stars
Edit
Jessica is in New York to visit her nephew Grady and to meet his fiancée, Donna Mayberry. She's also there to see the restaurant she's invested in. She learns very quickly - starting with the cab driver coming in from the airport - just how cut throat the New York restaurant business can be. Jessica is treated rudely by the restaurant Maitre d', Chaz Crewe, but finally manages get a table. When Crewe is found dead in the kitchen the next day, Jessica has a murder to solve. As for Grady and Donna, it's obvious to Jessica that they need to open up to one one another if they're to be happy.
DVD Release
Edit
Episode Chronology
Edit
External Links
Edit
Ad blocker interference detected!
Wikia is a free-to-use site that makes money from advertising. We have a modified experience for viewers using ad blockers

Wikia is not accessible if you've made further modifications. Remove the custom ad blocker rule(s) and the page will load as expected.