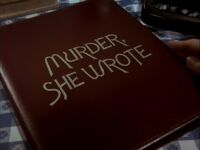 Murder, She Wrote: Season One
Murder, She Wrote: Season Two
Murder, She Wrote: Season Three
Murder, She Wrote: Season Four
Episodes:

"Doom With a View"
"Deadpan"
Murder, She Wrote: Season Five
Murder, She Wrote: Season Six
Murder, She Wrote: Season Seven
Murder, She Wrote: Season Eight
Murder, She Wrote: Season Nine
Murder, She Wrote: Season Ten
Murder, She Wrote: Season Eleven
Murder, She Wrote: Season Twelve
Murder, She Wrote: TV Movies
The Law & Harry McGraw
Novels
Games
DVDs
Production Information
Edit
Production Number:
Aired:
Written By:
Directed By:
INSERT EPISODE SCREENHOT HERE
Created By:
Executive Producers:
Producer
Regular Cast
Edit
Angela Lansbury as Jessica Fletcher
Recurring Cast
Edit
Michael Horton as Grady Fletcher
Guest Stars
Edit
Janet Leigh ... Cornelia Montaigne Harper
Monte Markham ... Insp. Donald Matheney
Jennifer Holmes ... Sandra Clemons
Macon McCalman ... Hotel Det. Fritz Rice
Charlotte Rae ... Nettie Harper
Robert Desiderio ... Mark Havlin
Jessica is in New York to visit her nephew Grady and finds herself living in a luxury suite at a posh hotel when his apartment has to be fumigated. It's all courtesy of of Grady's friend and fraternity brother Garrett Harper married to the older Cornelia Montaigne Harper, owner of the hotel. Grady is also surprised and happy to hear that a high school girl he was quite taken with, Sandra, is also at the hotel. What he doesn't realize is that Garrett and Sandra are up to something. When Grady finds her dead in her hotel room, he is naturally the main suspect. His friend Garrett keeps asking him for odd favors however. Jessica has no doubt as to Grady's innocence in all of this and works with the police to solve the crime.
DVD Release
Edit
Episode Chronology
Edit
External Links
Edit