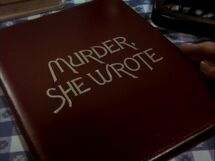 Murder, She Wrote: Season One
Murder, She Wrote: Season Two
Murder, She Wrote: Season Three
Murder, She Wrote: Season Four
Murder, She Wrote: Season Five
Murder, She Wrote: Season Six
Murder, She Wrote: Season Seven
Murder, She Wrote: Season Eight
Episodes:

"Angel of Death"
Murder, She Wrote: Season Nine
Murder, She Wrote: Season Ten
Murder, She Wrote: Season Eleven
Murder, She Wrote: Season Twelve
Murder, She Wrote: TV Movies
The Law & Harry McGraw
Novels
Games
DVDs
Production Information
Edit
Production Number:
Aired:
Written By:
Directed By:
INSERT EPISODE SCREENHOT HERE
Created By:
Executive Producers:
Producer
Regular Cast
Edit
Recurring Cast
Edit
Guest Stars
Edit
Martin Tremaine convinces Jessica to visit his Carmel estate and discuss his latest play, "Angel of Death'", which she finds disturbingly dark, then learns why: he fears he's going mad, being physically haunted by the veiled figure of his departed wife Vivian (who committed suicide). However in the estate's cottage where Martin's stepdaughter Courtney Stoddard lives, her husband Philip Stoddard is stabbed to death. Jessica finds out all about the whole family, mostly present for the weekend, plus Martin's blind ex-typist and lover Lisa Ryder, and traps the killer.
Episode Chronology
Edit
External Links
Edit
Ad blocker interference detected!
Wikia is a free-to-use site that makes money from advertising. We have a modified experience for viewers using ad blockers

Wikia is not accessible if you've made further modifications. Remove the custom ad blocker rule(s) and the page will load as expected.