Ad blocker interference detected!
Wikia is a free-to-use site that makes money from advertising. We have a modified experience for viewers using ad blockers

Wikia is not accessible if you've made further modifications. Remove the custom ad blocker rule(s) and the page will load as expected.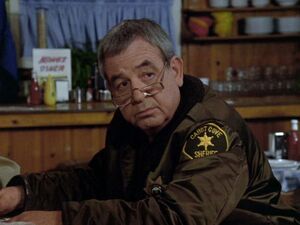 Amos Tupper
Gender: Male
Current Status: Alive
Professional Information
Occupation: Sherrif, Cabbot Cove

Personal Information
Episode Chronology
First Appearance: Deadly Lady
Last Appearance: Benedict Arnold Slipped Here

Played By
Actor: Tom Bosley
Amos Tupper is the sheriff of Cabot Cove, Maine. His debut on the show was the episode "Deadly Lady," his final appearance "Benedict Arnold Slipped Here" after this, he went back to Kentucky to stay with his daughter. Many of the Cabot Covers suggest that Jessica Fletcher solves all of his cases, even though this is largely true.
He has one sister named Winnie, who stayed with him and her family in the episode "Who Threw the Barbitals in Mrs. Fletcher's Chowder?." Prior to being the sheriff, Amos was a bus driver for a short time.
Murder, She Wrote: Season One
The Murder of Sherlock Holmes
Deadly Lady
Birds of a Feather
Hooray for Homicide
It's a Dog's Life
Lovers and Other Killers
Hit, Run and Homicide
We're Off to Kill the Wizard
Death Takes a Curtain Call
Death Casts a Spell
Capitol Offense
Broadway Malady
Murder to a Jazz Beat
My Johnny Lies Over the Ocean
Paint Me a Murder
Tough Guys Don't Die
Sudden Death
Footnote to Murder
Murder Takes the Bus
Armed Response
Murder at the Oasis
Funeral at Fifty-Mile
Murder, She Wrote: Season Three
Death Stalks the Big Top (Part 1)
Death Stalks the Big Top (Part 2)
Unfinished Business
One White Rose for Death
Corned Beef & Carnage
Dead Man's Gold
Deadline for Murder
Magnum on Ice
Obituary for a Dead Anchor
Stage Struck
Night of the Headless Horseman
The Corpse Flew First Class
Crossed Up
Murder in a Minor Key
The Bottom Line Is Murder
Death Takes a Dive
Simon Says, Color Me Dead
No Laughing Murder
No Accounting for Murder
The Cemetery Vote
The Days Dwindle Down
Murder, She Spoke