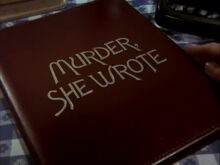 Murder, She Wrote: Season One
Murder, She Wrote: Season Two
Murder, She Wrote: Season Three
Murder, She Wrote: Season Four
Murder, She Wrote: Season Five
Episodes:

"Alma Murder"
Murder, She Wrote: Season Six
Murder, She Wrote: Season Seven
Murder, She Wrote: Season Eight
Murder, She Wrote: Season Nine
Murder, She Wrote: Season Ten
Murder, She Wrote: Season Eleven
Murder, She Wrote: Season Twelve
Murder, She Wrote: TV Movies
The Law & Harry McGraw
Novels
Games
DVDs
Production Information
Edit
Production Number:
Aired:
12 March 1989
Written By:
Chris Manheim
Directed By:
Anthony Pullen Shaw
INSERT EPISODE SCREENHOT HERE
Created By:
Executive Producers:
Peter S. Fischer & Anthony Magro
Producer
Robert Van Scoyk
Regular Cast
Edit
Recurring Cast
Edit
Guest Stars
Edit
Jessica returns to her college town when a sorority sister calls to tell her that one of their much-loved professors, Leon Walker, has been arrested for the murder of a student. Walker has confessed to the killing and her old classmate - and now District Attorney Paul Robbins - feels he has no choice but to proceed. Jessica soon realizes that Walker's story just doesn't add up and that he is obviously protecting someone. When someone else confesses to the crime, Jessica realizes why Walker was prepared to take the blame but even that doesn't quite provide the solution to the crime.
DVD Release
Edit
Episode Chronology
Edit
Previous:- From Russia With Blood. Next:- Truck Stop
External Links
Edit
Alma Murder At the Internet Movie Database
Ad blocker interference detected!
Wikia is a free-to-use site that makes money from advertising. We have a modified experience for viewers using ad blockers

Wikia is not accessible if you've made further modifications. Remove the custom ad blocker rule(s) and the page will load as expected.